Programs
"Threads of Spirit – Cloths of Meaning"
One hour illustrated slide lecture discussing some of the many different ways humans have used textiles for religious or spiritual purposes. Join me as I follow this connecting thread across time and explore the effect on different cultures, contemporary artists, and my own work. Gain a deeper appreciation of our place as weavers and fiber artists in the cloth of humanity.
Please contact me to schedule a presentation.
Classes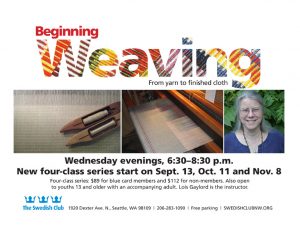 Beginning Weaving Classes at the Swedish Club, Seattle. Ongoing Each session is a series of four two-hour classes: Currently classes are on Tuesday evenings from 6:30-8:30 pm. Check my Facebook page or with the club to find out when the next session starts. Contact the club to register: (206) 283-1090 or rsvp@swedishclubnw.org
Class Description: Beginning Weaving
From yarn to finished cloth, learn the fundamentals of this ancient craft. By the end of the class, students will know how to plan a project, set up a loom, weave the cloth and ways to finish it. Basic weave structures, types of yarn, fiber properties, weaving terminology, equipment, and other related topics will be covered. The first project will be a sampler exploring basic weave structures.
Private weaving lessons are also available.
"Weave Your Spirit Cloth"
We talk about the 'fabric of our daily life.' We tell stories by 'spinning a yarn.' Our lives can 'hang by a thread.' Come learn about the power, history, symbolism and deeper meanings of textiles in human life. Then use this knowledge to weave a small cloth with intention to manifest something in your life. No weaving experience required! All necessary materials will be provided, but you are encouraged to bring small, precious items of personal spiritual value (yarns, sticks, beads, feathers, etc.) to weave into your piece and give it special meaning.
3 hour workshop – First hour (45-60 minutes) talk and discussion on the spirituality and meaning of textiles. Two hours for working on project.
"Weave a Mini Tapestry to Enhance Your Life"
—Explore the magic of weaving while we learn the basics and create a miniature tapestry. Once we are immersed in the process, we will discuss some of the history, symbolism and deeper meanings of textiles in human life. We'll learn why you can use this process as a tool for manifestation as well as a way to create something beautiful for your home.
—No weaving experience required! All the steps in the process will be demonstrated, and basic terminology will be explained. Students will wind a warp on a small wooden panel. They will be given the opportunity to write on strips of paper to include in their piece. All necessary materials will be provided, however students are encouraged to bring small, precious items of personal spiritual value (yarns, sticks, beads, feathers, etc.) to weave into their piece and give it special meaning if desired.
2 hour workshop, focused on the weaving project.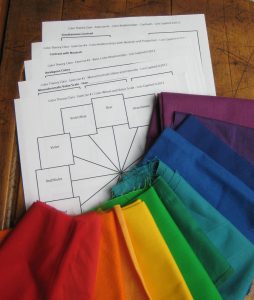 Understanding Color – 3 sessions
Have you ever been frustrated when choosing colors for an art project, sewing project, painting or even deciding what to wear? Does it seem that sometimes you get it and other times you don't? Learning basic color theory will give you the tools, knowledge and understanding to make those choices a whole lot easier and more fun. In each 3 hour class, we will cover a different aspect of color theory by coloring one or two worksheets and then apply those concepts in the creation of small paintings.
Color Theory Classes – Summary of each session
1 – Basic color terminology, and the color wheel
Monochromatic – Value, Intensity & Saturation
2 – Color Relationships – Analogous, Complimentary, Near Compliments & Proportion
3 – Color Relationships – Contrasts and how colors affect each other
Contrasts with Neutrals, Simultaneous Contrast, Contrast of Saturation
Students will make a set of reference worksheets on color theory, and one or more small paintings each class using the concepts presented each day.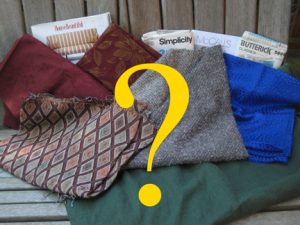 "Right Fabric, Right Project"
Unravel the mysteries of picking the "right" fabric for your projects. This class will cover an overview of the different components to cloth: fiber, structure, drape and how those effect the visual look or style and the functionality for your desired project. Students are invited to bring a pattern or project idea to discuss for appropriate choices. Information from this class is applicable to any use of fabric including clothing and home decor.
2 hour class
Private lessons on sewing, weaving and advise or assistance with your fiber-related projects are available.
Please contact me for more information and to schedule a class or private learning session.