Andalusian Stripe Tallit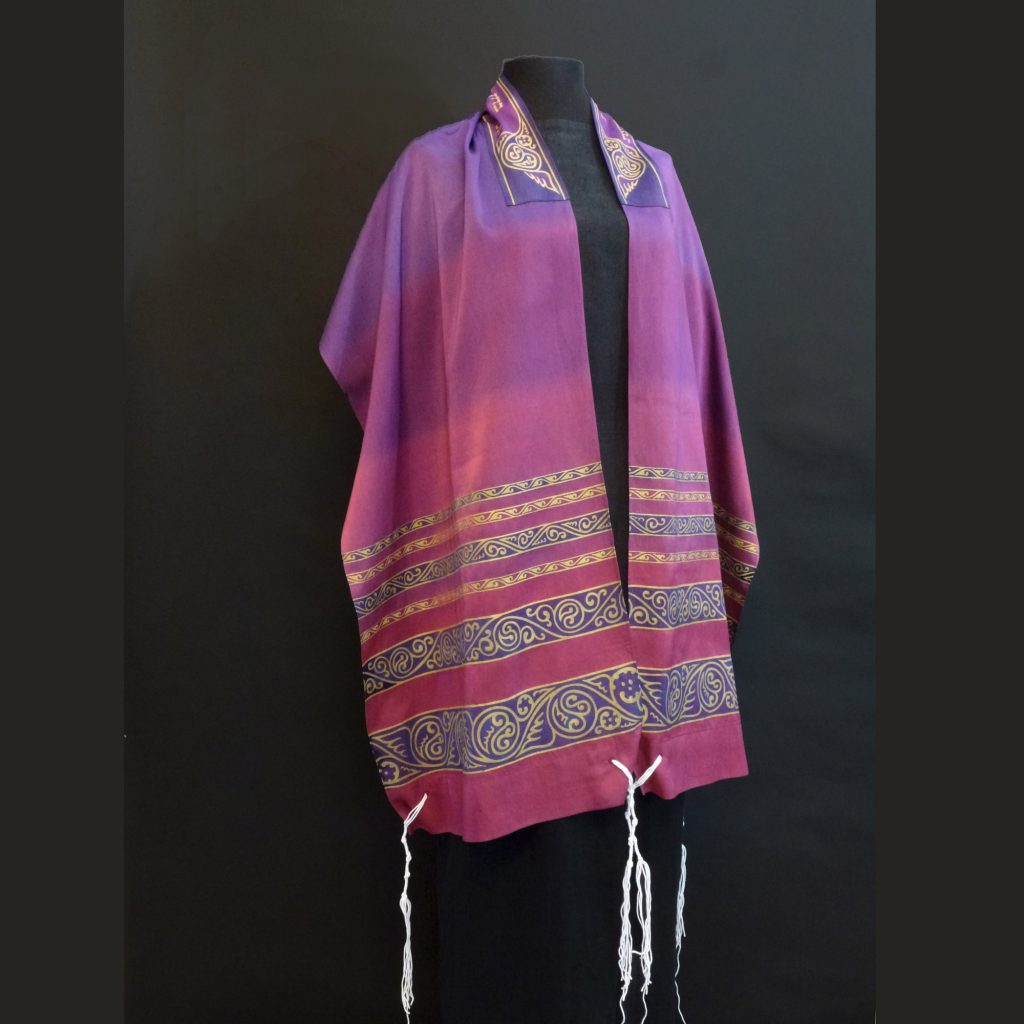 Say the blessing for donning tzitzit and then let this hand dyed tallit settle lightly on your shoulders. Let its soft drape and elegant, shimmering colors connect you with the beauty of Divine Spirit. Know that this tallit was made for you with the intention of hiddur mitzvah (beautifying a mitzvah). May you feel sheltered beneath the wings of Shekhinah when you wear one of my tallitot.
In 52% silk and 48% cotton this beautiful satin weave fabric is printed with shimmery gold metallic ink. The swirly striped designs, inspired by Medieval Andalusian art**, are the work of my husband Kevin Cain, and the beautiful calligraphy printed on the atarah (neck band) is by artist Risa Aqua.
Fabric: 19mm – 52% silk and 48% cotton
Available in two sizes: 18" x 80" & 15" x 74" (may vary slightly)
This design is also available in linen or a checkered silk noil. Two linen tallitot are pictured below.
Please contact me or visit my etsy shop to purchase from current stock.
Tree of Life Tallit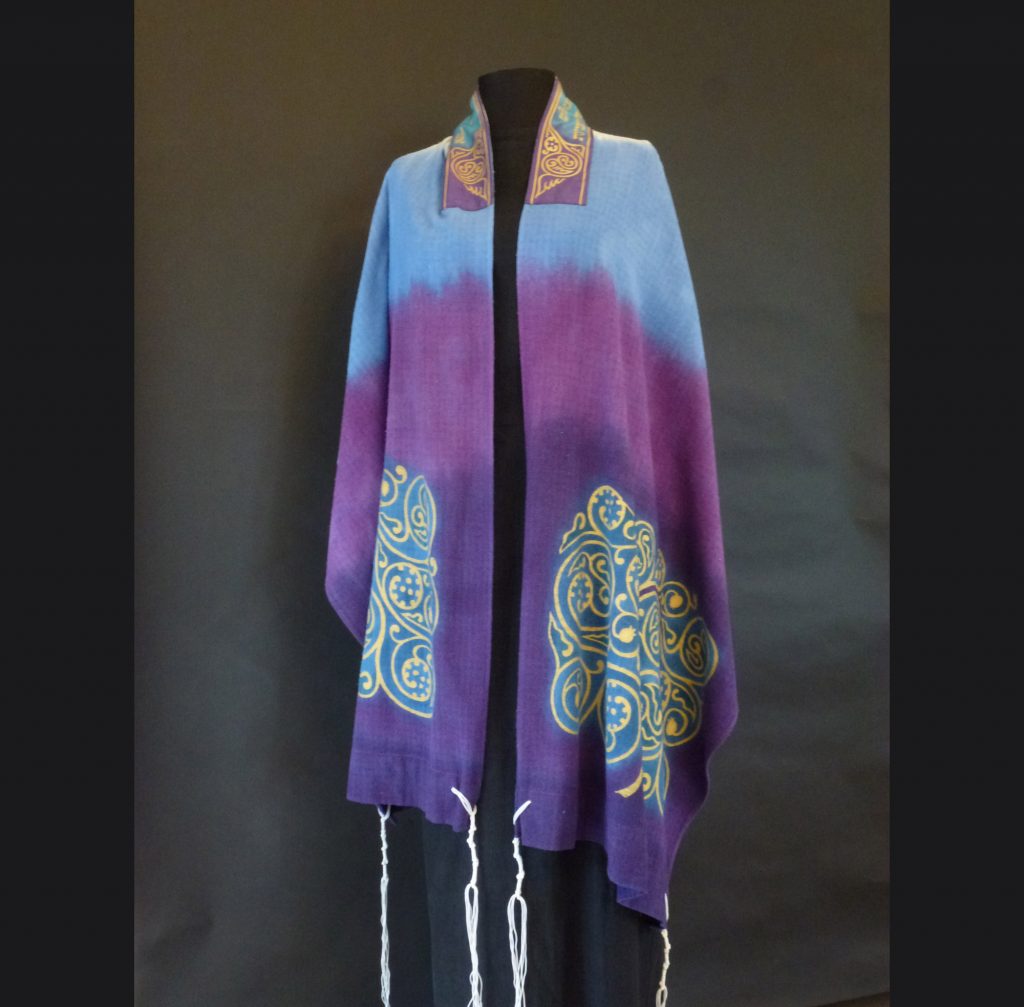 Shown in a sumptuous and soft, "checkered" 100% silk noil.
Atarah fabric: for "Checkered" Noil / Raw silk is 100% silk broadcloth
Size: 24" x 82" (may vary slightly)
Other fabrics available:
Beautiful satin weave in 52% silk and 48% cotton.
Wonderful light weight, pure handkerchief linen. Excellent for warm climates.
Atarah fabric: silk/cotton & linen use the same fabric
Please contact me or visit my etsy shop to purchase from current stock.
Handwoven Tallit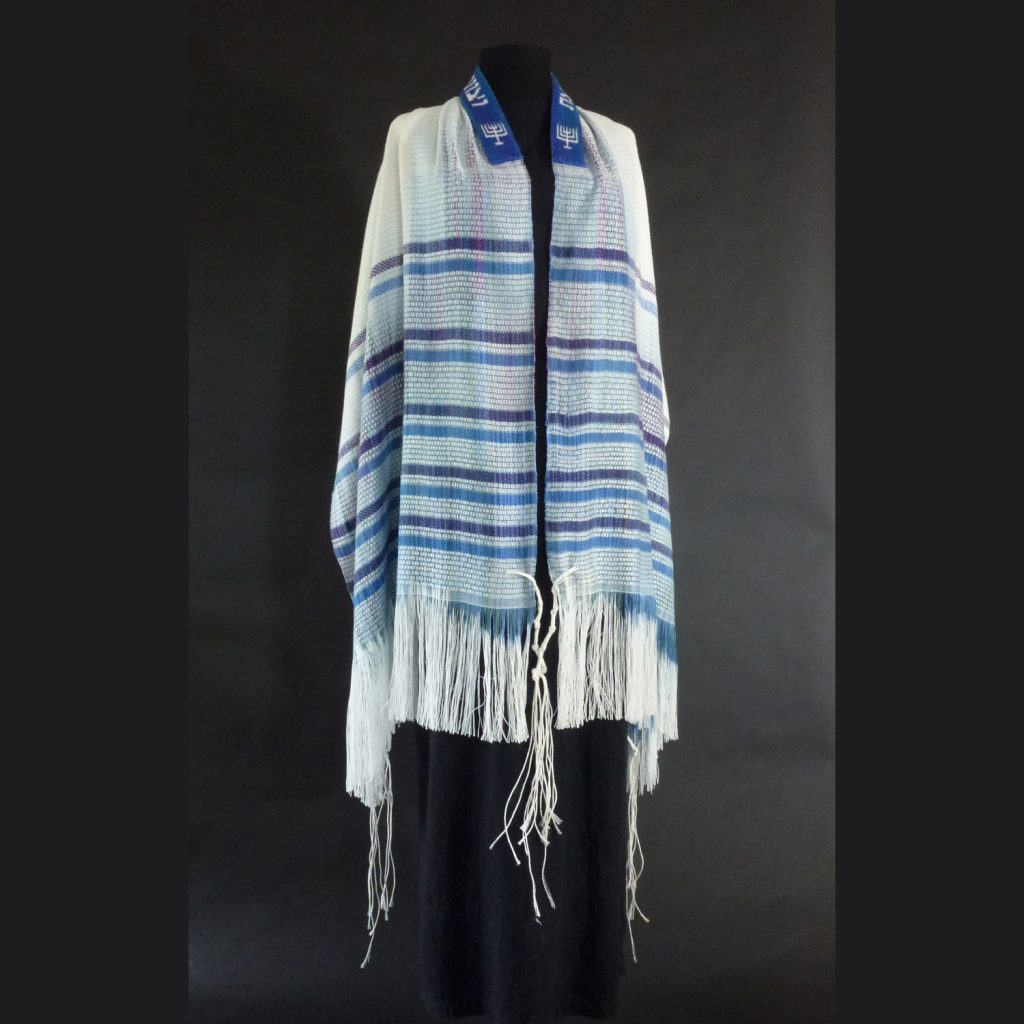 This tallit was handwoven in fine linen combined with silk and tencel to create a fabric that drapes like no other.
Size: approximately 24" x 90" includes 7" of fringe on each end.
Care: Hand wash and drip dry, press on back side with steam or Dry Clean.
Every tallit is a unique piece of art. No two will ever be exactly alike.
Please contact me or visit my etsy shop to purchase from current stock.
Fiber Geekery:
The white linen warp is wound in sections and painted with fiber reactive dyes in a cascade of colors before being threaded onto the loom. The main weft is a smooth spun silk in a natural white that is very soft to the touch and gives this fabric an amazing drape. Variations of weave structure add stripes of subtle interest to the cloth. The purple and teal accent stripes are tencel.
Tablet Woven Atarah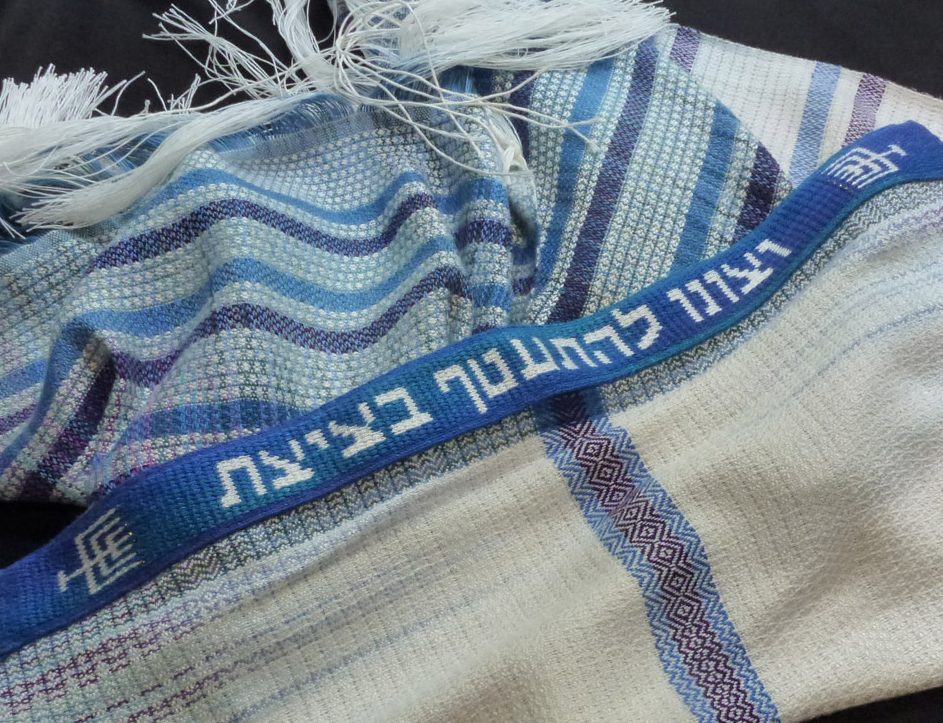 Make your tallit extra special with a handwoven atarah. Create a treasured gift for a bar/bat mitzvah or to honor someone for a special occasion. Designed to coordinate with my handwoven tallitot, they can also be sewn onto the fabric of your choice.
The bands are handwoven in tencel, bamboo rayon, cotton or a combination of these three fibers.
Average size is approximately 1-3/4" wide x 22-24" long.
Custom orders are welcome. I can vary the text, end designs or colors. Please contact me or visit my etsy site to purchase from current stock.
Choose your text, possibilities include:
Takhat kanfai haShekhinah – Under the wings of Shekhinah
v'tzivanu l'hita-tef ba-tzitzit – wrapping ourselves in tzitzit (end of blessing for donning tallit)
Also possible a short Hebrew phrase, blessing or Hebrew name that you send me. Choose a design for the ends of the band, possibilities so far include:
Wing design, Menorah, Six pointed star, Kabbalah Tree of Life glyph.