Personal Transformation Talisman Class
Do you feel stuck?
Do the same patterns stop you every time?
Do you want to change your life?
This class is an excellent opportunity to really shift your energy: around relationships, career, or your general well-being. If you are wondering how or why this might work, let me share some more info about the class.
First, what are talismans and amulets? Is there any the difference between the two?
Traditionally they are both objects that are thought to have magic powers. Amulets are typically used for protection or to keep negativity at bay. Talismans are often used as good luck charms and to draw what you desire to you. They can also be for protection. You can use talismans as a focus to keep you on track with the shifts you want to make.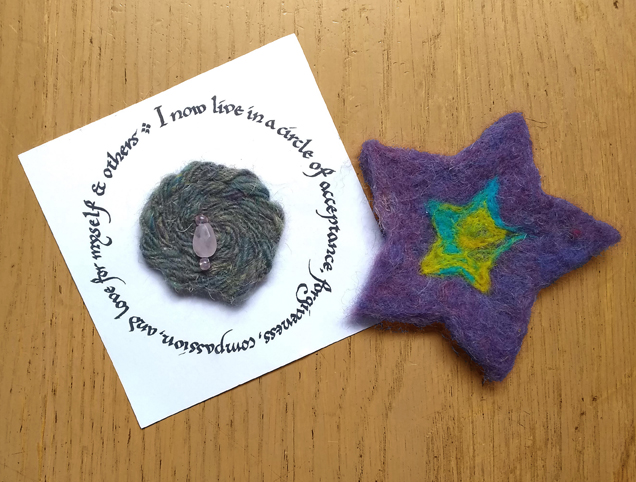 Your Personal Transformation Talisman workshop is a fun, hands on, creative process. We start with a guided meditation to begin our journey of awareness into what's beneath those pesky old blocks that keep stopping us. We'll do a couple of fun, easy art projects to gain more clarity on what really needs to shift, and then we'll make our talismans. My process literally unravels what you want to change and breaks it down to its original state so those fibers can be reformed into something new. As we know from physics, nothing is ever truly destroyed, it just changes state or is transformed. So we can do the same thing with ideas and thought patterns.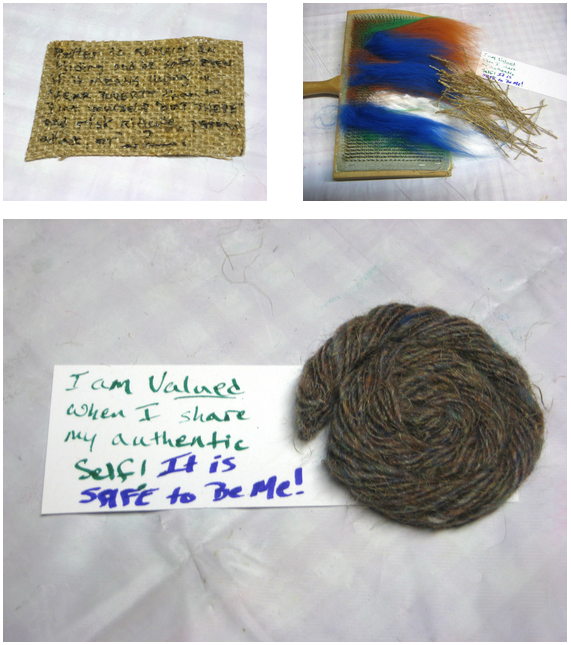 Having support when we make changes in our lives is so important. Using art helps turn off the negative inner tapes so we can connect with our subconscious and our higher selves. With this workshop I provide a safe, accepting and compassionate space to have a different sort of dialog with yourself. And, you get to go home with some art and a special talisman that you can use to keep focused on what you really want in your life! If you would like to join me, tickets are available on Eventbrite.
Class details:
Sunday, November 10, 2019 – Noon – 4 pm
Location: NE Seattle, address provided when registered
Tuition: $75 – all materials provided – bring a lunch if desired, snacks provided
Register on Eventbrite, by phone or email,
206-933-0759 – ljgaylord (at) iCloud (dot) com
This is what Rachel had to say after we unraveled divisiveness and spun respect:
"I am having more strength when it comes to clearly communicating and articulating my needs and boundaries. I don't know how happy this makes the people around me, some of whom would prefer to take advantage, but I can tell you that personally I am THRILLED! I have noticed a large and lasting shift."
Other classes – Future Dates TBA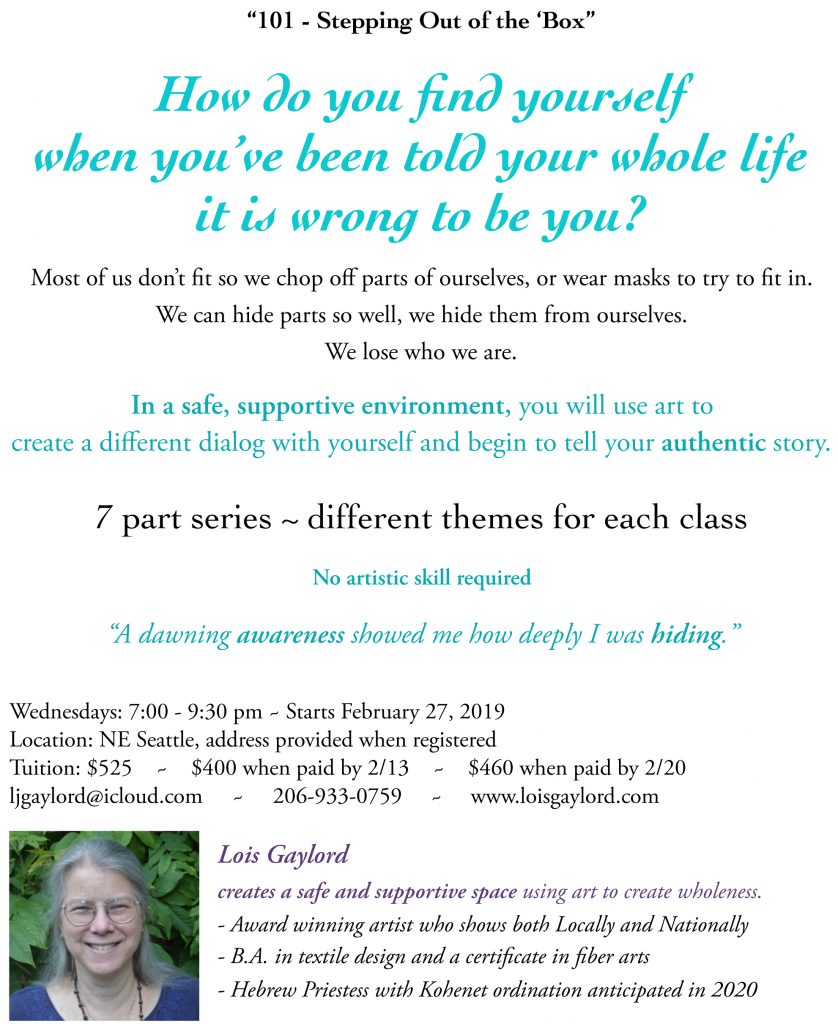 Each class will build on the previous one as we explore a different theme each week through art, meditation, setting intentions and most importantly Having Fun!
Weekly Themes
1 – Hiding – Awareness
2 – Play it Safe – Finding Confidence
3 – Self Judgement – Worthiness
4 – Body image – Self Acceptance
5 – Perfection – Compassion
6 – Fear of Rejection – Self Love
7 – Freedom, Love and Joy to be yourself
Class Dates February 27 – April 10, 2019