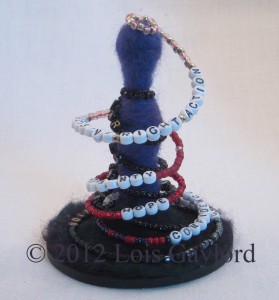 Lois Gaylord, an abstract artist working in fiber and mixed media, is a maker of connections.  Her "fiber-brained" ideas and deep relationship to Spirit have brought her to avodat ha'lev, the work of her heart. Lois weaves these two passions into her ceremonial cloths. And through her works of art, she explores the connections between our daily lives and Spirit.
The passion for her work comes from the idea that Spiritual Oneness is the key to tikkun olam, repairing the world. When we treat each other with respect, acknowledging we all come from the same source, that we are all connected, humanity will finally find solutions to the problems that plague us. Wars, poverty, abuse, environmental damage/degradation and the like will no longer be acceptable and we will change and create a just and sustainable world.
Global healing begins with the individual. Every person connects with Source in their own way. Through a Spiritual practice we can each open to the unity of all life and see how we are all part of the same cloth; that every thread, every life is vital to the integrity and richness of the fabric of life. By creating things of beauty that are supportive of Spiritual practice, Lois helps heal the world (tikkun olam). Underlying her work is the Jewish principle known as hiddur mitzvah, to beautify a good deed done by observing a commandment or fulfilling a religious duty.
Her lifelong passion for the fiber arts grew from learning how to sew, embroider, crochet and weave at a young age. She has a bachelor's degree in textile design and more recently completed a certificate program in fiber arts. She uses many textile and fiber processes in her work including weaving, dyeing and sewing.
She enjoys the challenges of both pursuing her own artistic explorations, and working on commission. Completed projects include custom garments for people who were performing wedding ceremonies, a priestess stole, altar cloths, Jewish prayer shawls and atarah bands. In her sewing, she specializes in making garments for people with fitting issues. If you have an idea for a special item you have been unable to find, it would bring her great joy to create it for you. Get in touch and let her manifest your vision.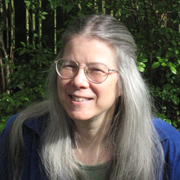 Her mission: To create art with a spiritual focus or for spiritual use, art that celebrates the threads of spirit that connect us all. To make beautiful cloth in support of a person's spiritual practice.