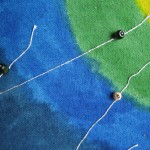 On this page, you will find a selection of my recent work. Spirituality and connections are the two major themes that are the current focus of my work.  As a holistic thinker and abstract artist, I choose from a variety of materials and techniques to find the ones that best express my ideas. Please contact me to purchase any of these pieces.
Fiber Art:
From fibers to threads to cloth, be it felting, weaving or dyeing, my "fiber-brained" ideas are created using the appropriate techniques for the piece.
Click on image for a larger view, click to close.
Puzzle Art:
Life often seems like one is trying to put the pieces together. Using jigsaw puzzles to explore how things fit together is another way I explore connections.
Small Sculptures:
Fibers and threads meet model making skills and combine to create this series of small sculptures that explore ideas in three dimensions. Story behind Mind the Spirals is here.
The stories behind these pieces and my journey will be posted on my blog under the tag "Art Story". Look for installments around the new moon.