My story begins with a piece that was finished in 1989, nearly 25 years ago. I was truly honored Saturday evening November 3, when I found out it had been awarded 'Best of Show' for the Proud Past portion of the Seattle Weavers' Guild 75th Anniversary art show. The show, sponsored by SWG is called "Putting the Art in Fiber Art, Proud Past, Dynamic Future, is at the Art/Not Terminal Gallery in Seattle, WA through November 27th, 2012.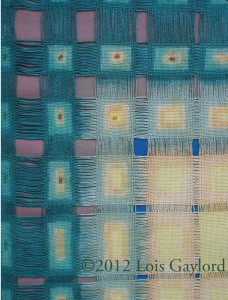 This piece was inspired by a quote from the book The Turning Point by Fritjof Capra, 1982, "The image of the Goddess…with the one manifest in the many and the many dwelling within the one". If memory serves, this was my first introduction to the concept of a feminine Divine energy, and the Gaia hypothesis — the earth as a single living organism.  Using modern physics as a basis, the book examines the many ways that everything is connected. My intent was to create a visual image or representation that showed the spark of divine light within each of us as separate entities and yet together they create a greater whole.
There is a lot of personal significance for me that this particular piece was chosen for the award.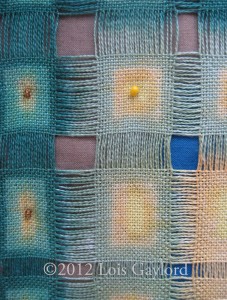 "Gaia, the One and the Many"  was the last piece of conceptual art I completed for almost 20 years, but was never shown publicly. In many ways it was a foundational work for me. This piece was more complex than my earlier work in concept as well as utilizing more elements and techniques. It was the first exploration of my personal philosophy that everything is connected in some way. And it shows the beginning of my now deep connection with the Divine Feminine. The timing is significant as well. I love the "coincidence" that an artwork about the "Goddess" was awarded best of show now that I am truly launching my ceremonial cloths business, dedicated to imbuing cloth with sacred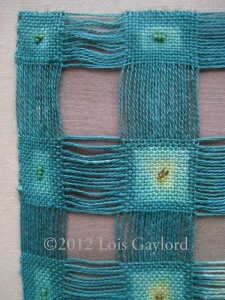 intent.
The next post in this series will fast forward about 20 years (with a brief stop 9 years ago) when my need to create art finally re-asserts itself.