The Greater Seattle area is blessed this weekend, November 30 – December 2, 2012 with an amazing array of studio tours and art/craft shows and other venues. I'm posting a list of the events that I know about, and many of my artist friends will be participating in them. So, go to the shows, have fun, buy art, and support your local economy and some good causes. We all thank you, and have a wonderful holiday season, from close to 250 hard working artists.
First up are the two shows I will be doing. The first is on Sunday December 2 only: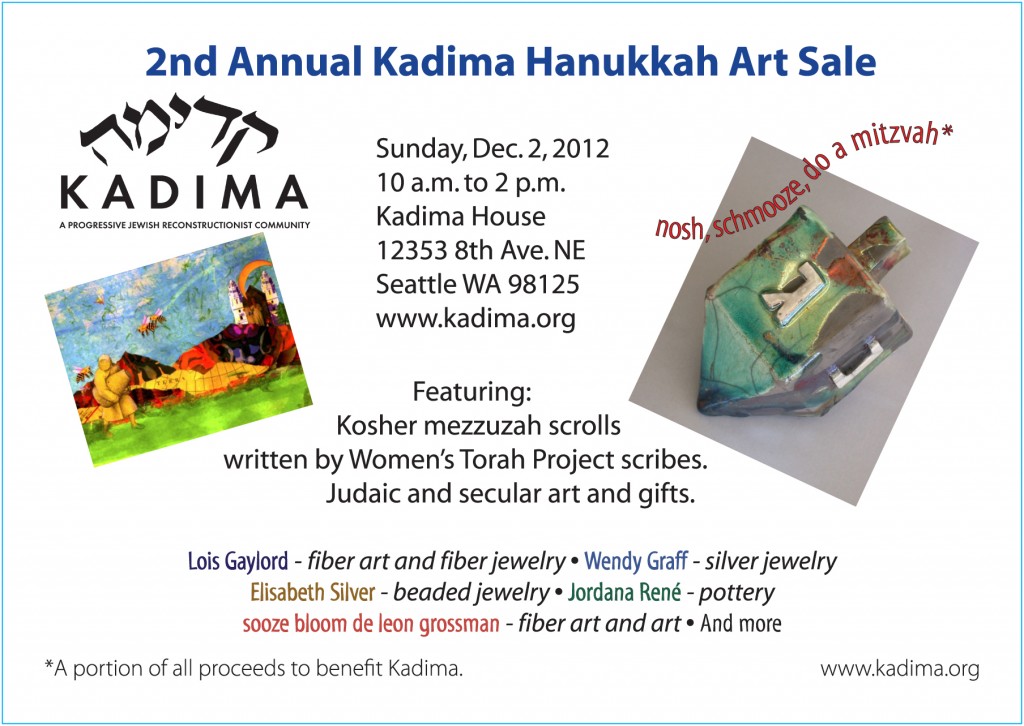 The second show I will be doing is later next week.
Thursday, December 6th (5 pm – 8 pm)
Holiday Spa Party / Art Showing / Craft Fair
Essence Salon, 1415 NE 80th Street, Seattle
A great way to pamper yourself and keep looking your best while getting ready for the holiday season Join local artist Tessa Roche, as well as local craft artists for our annual holiday gift craft fair.  Spa services available. For more information and for a list of services, visit http://www.essenceseattle.com/newsletter/newsletter.pdf . To reserve a spa appointment for that evening, email admin@essenceseatt.com or call 206.523.1187
And here's the list of some of the other shows around town.

Seattle Sampling Artists' Studio Tour Celebrating 25th Year
Fri. 11/30 (4pm – 9pm) Sat. & Sun. (10am – 5pm)
Seattle Sampling, Seattle's most established and largest holiday arts and crafts tour is celebrating its 25th year. Twenty-eight of Seattle's award–winning and professional craftspeople will be showing at 9 locations throughout the greater Seattle area. This free, self–guided tour offers holiday shoppers a relaxed and intimate opportunity to meet the artists in their own environments, where they work and live.  A map and a complete listing of all the artists and their locations are available for download at www.seattlesampling.com
NEAT – North End Arts Tour – Fri. 11/30 (4pm – 9pm) Sat. & Sun. (10am – 5pm)
"Free, self-guided art tour of 6 home studios / galleries in North Seattle.
I know eight of the 29 artists who will be selling their fabulous work.
Get a map and complete info at: http://www.neatseattle.com/
Solulumination Art sale – Dec. 1st (10am – 7pm) & Dec. 2 (12pm – 5pm)
Over 30 local artists will be selling their handmade creations. 100% of proceeds from handmade wreaths, raffle baskets and other special items will benefit Soulumination and at least 25% of every purchase at the sale benefits Soulumination's mission.
Solumination celebrates the lives of children and parents facing life-threatening conditions by providing professional photgraphs of these special individuals and their families, free of charge.
http://www.soulumination.org/index.php/site/entry/2011-artists-sale
And the Big show for the weekend:
Urban Craft Uprising – Dec. 1 & 2nd (11am – 5pm)
Seattle Center Exhibition Hall
Urban Craft Uprising is Seattle's largest indie craft show!  At UCU, now in its eighth year, fans can choose from a wide variety of hand-crafted goods, including clothing of all types, jewelry, gifts, bags, wallets, buttons, accessories, aprons, children's goods, toys, housewares, paper goods, candles, kits, art, food, and much, much more.
http://urbancraftuprising.com/
And a couple of events on the Eastside:
VALA Art Shop at Redmond Town Center
Locally crafted artworks from over a dozen artists will be available to purchase through the holiday season. From pottery to painting, fiber works to jewelry, there is something for everyone at the VALA Art Shop.  The Art Shop is located at Redmond Town Center on 164th St. across from Z Gallerie and next to the 164th St Starbucks.  The shop will be open Friday – Sunday November 23 – December 23 from 11am-5pm during the holiday season.  Stop by, buy some art and help support local artists.
http://www.valaeastside.org/come-to-the-vala-art-shop
Happy Valley Arts & Crafts Fair – December 1 (10am -5pm)
My friend Beth Newfeld will be here on Saturday with her fabulous felt.
Over 20 local artists at 19720 NE 50th Street, Redmond, WA.
http://www.facebook.com/HappyValleyFair
And a lovely ferry ride from Seattle:
Bainbridge Island Studio Tour 11/30 – 12/2 (10am – 6pm daily)
The 29th annual Winter Studio Tour is scheduled for November 30 through December 2, 2012. We're so excited to bring you this holiday tradition, and know you'll enjoy meeting the artists and visiting our local artists' studios and community halls! More than 70 artists will be on hand in ten studios. Mark your calendar now, and don't miss it!
http://www.bistudiotour.com/
Happy Shopping!